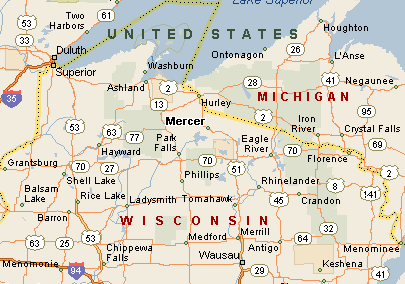 Mercer Wisconsin is located in Iron County one of the northern most counties of Wisconsin.  We are easily accessible from the major cities of Madison, Milwaukee, Minneapolis, and Chicago via U.S. Highway 51.
Travel Distances from Major Cities:
Madison – 240 miles
Milwaukee – 285 miles
Minneapolis – 285 miles
Chicago – 385 miles
We are also accessible by airlines out of Minneapolis and Chicago via Rhinelander, Wisconsin and Ironwood, MI airports.  Rental cars are available at both airports.  You can also fly from Chicago (Wheeling) Illinois to Woodruff/Minocqua or Eagle River via Trans North Avaition in Eagle River, Wisconsin.  The Woodruff/Minocqua airport does not offer rental cars.
Driving Instructions:
From Chicago: Take Interstate 90 West to Interstate 39 in Portage Wisconsin.  Interstate 39 changes over to U.S Hwy 51 North.  Continue North on U.S Hwy 51 to Mercer.
From Milwaukee:  Take Interstate 94 West to Madison where it merges with Interstate 90 and continue North to Interstate 39 in Portage Wisconsin.  Interstate 39 changes over to U.S Hwy 51 North.  Continue North on U.S Hwy 51 to Mercer.
From Madison:  Take Interstate 90 West to Interstate 39 in Portage Wisconsin.  Interstate 39 changes over to U.S Hwy 51 North.  Continue North on U.S Hwy 51 to Mercer.
From Minneapolis:  Take Hwy 8 East or Hwy 70 East to U.S. Hwy 51 North to Mercer.
Area Activities in Mercer Wisconsin
Activities and Attractions
Iron County Wisconsin, filled with wonderful scenery and rich iron mining heritage, is an excellent choice to spend a week or weekend exploring all this area has to offer.
Fishing – Open water and ice – Musky, Walleye, Bass, Northern Pike & Panfish
Boating – Open water and river canoeing – boat landing nearby
Hunting – large and small game are abundant – Deer, Ruffed Grouse & Waterfowl
Snowmobiling – hundreds of miles of trails are just outside our door, at the junction of trails 10 & 12
Sightseeing – woods, waters, waterfalls and wildlife – loons, eagles, osprey, beaver, otter & deer, fall color tours
Hiking and Biking – on and off road trails
Snowshoeing and Cross Country Skiing – beginner to advanced
Shop and Eat – unique shops and restaurants within miles
WE HAVE IT ALL!!! Whatever your reason for visiting, we welcome you with open arms and hope you enjoy the splendor of the great outdoors in our area.
Spring…  Is the time of the year for new growth.  Trees begin to turn green and the flowers begin to bloom.  April 15th opens many ATV trails in the Mercer, Wisconsin area, weather permitting.  The lakes begin to thaw in preparation of opening fishing season in May.  In April, area biking and hiking trails also open.
Summer…  Offers an abundance of outdoor enjoyment including swimming, hiking, biking, boating, fishing, water skiing, tubing, ATVing, tennis, volleyball, canoeing & camping.  Mercer is surrounded by over 900,000 acres of federal, state and county forests.  We offer uncrowded waterways for fishing and boating activities.  Wildlife is abundant with many different species of wildlife including black bear, whitetail deer, timber wolves, coyotes, snowshoe hare, badger, fisher, porcupine, and raccoon.  We also have many species of birds native to the area including loons, hawks, owls, bald eagles, osprey, ruffed grouse, great blue herons and many types of ducks and geese
Fishing…  If fishing is your forte, this is the place!  The Mercer area is home to an abundance of good fishing lakes filled with Northern Pike, Bass, Musky, Walleyes, and many varieties of panfish.  A good number of our lakes are ranked as "Class A" Musky Lakes; a good place to finally pull in that trophy-sized fish.  The North and South Forks of the Flambeau River offer Lake Sturgeon, Musky, Walleyes and Smallmouth Bass.  Our large number of lakes, streams and ponds offer a good source of Bass, Brown, Brook and Rainbow Trout.
Winter…  Transforms the northwoods into a winter wonderland.  Snowmobile enthusiasts travel to Mercer to ride the 500 miles of excellently groomed trails and the 200 inches of snow, which make these trails some of the finest in Wisconsin.  We offer a 24 hour/7 days a week trail condition report beginning December 1st each year and continuing through the season.  Other activities enjoyed in our area in the winter include ice fishing, cross-country skiing & snow shoeing.
Snowmobiling…  By day or night, trails around here are some of the nicest you can find. Wide, well groomed, and clearly marked, they link many warm and friendly places to meet or lodge.  Whether riding through the Flambeau Trails of the Chequamegon, down the old Omaha rail bed known as the Tuscobia Trail running from Park Falls north to Rice Lake, or over hundreds of miles of county and club trails, you will find why the Mercer area is great snowmobile country!
Fall…  Is spectacular with the colors of the changing leaves. It's also the time of year when many hunting seasons begin, including the Ruffed Grouse, with which we are known as the "Ruffed Grouse Capital of the World." ATVing continues through November 15th on most trail systems. I t's also the perfect time of year to go hiking, biking and canoeing.
Hunting…  Hunting in the Mercer, Wisconsin area is sure to provide you with a rewarding experience.  Our large area of public lands with low competition from other hunters offers the ideal hunting conditions.  Mercer boasts the most habitat for ruffed grouse anywhere! As "The Ruffed Grouse Capital of the World" this is definitely the place for hunting.  Many miles of hunting trails are seeded and mowed and are gated to prohibit motorized use.   These are in the heart of the best habitat areas.  The Mercer area is ideal black bear habitat.  Many acres of public lands are open to hunting for the hunter who prefers using dogs or those who prefer using bait stations.  Both types of hunters have had excellent results as our abundance of good habitat contributes to a large bear population.
For exceptional deer hunting conditions, Mercer is the place, with a large deer population per square mile.  Hunter usage per square mile is low due to the large amounts of public land available therefore giving you a better than average chance of bagging your trophy.
Other Activities
Hiking…  Hiking in Mercer offers an excellent chance to get out there and really "commune with nature."  Many miles of trails are closed to motorized use and offer an excellent chance to enjoy the peaceful serenity of our northwoods.  Numerous trails offer a short hike or a chance to enjoy a more lengthy backpacking trip from all day to several days with camping along the trails.